My Patients Get Better
I am warm, understanding, and results-oriented. I use a diverse array of instruments to assess patients before beginning treatment, throughout treatment, and as treatment ends. My patients enjoy watching themselves change over time and I enjoy celebrating with them! As you can see, everyone's journey towards change, symptom reduction, and well-being is different. I tailor each patient's treatment plan to best fit their unique style of growth, goals, and life circumstances.
Pediatric Aggression
My Harmonizing Your Home Program consistently eliminates nearly all child aggressive behavior (results vary due to a number of different factors).
Youth Anorexia Nervosa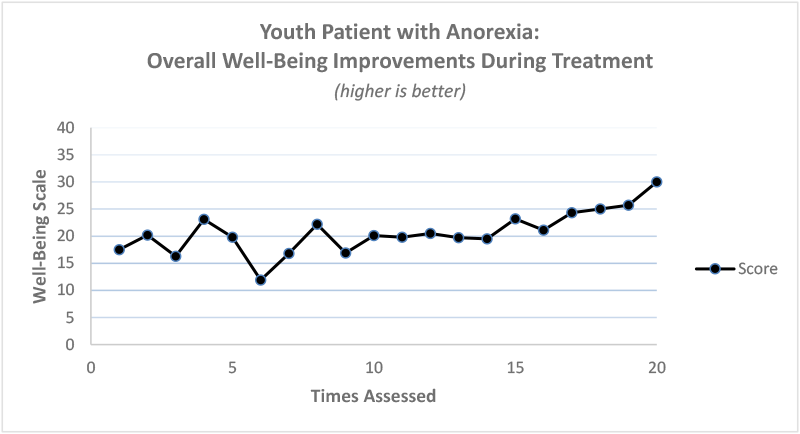 Pediatric Attention Deficit Hyperactivity Disorder (ADHD)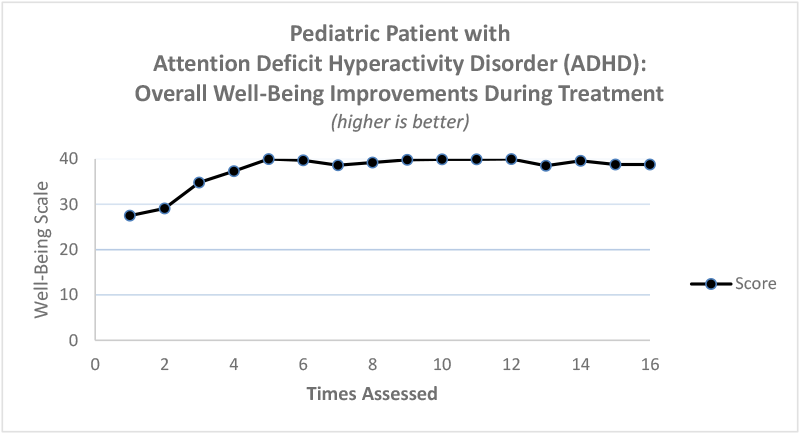 Bulemia Nervosa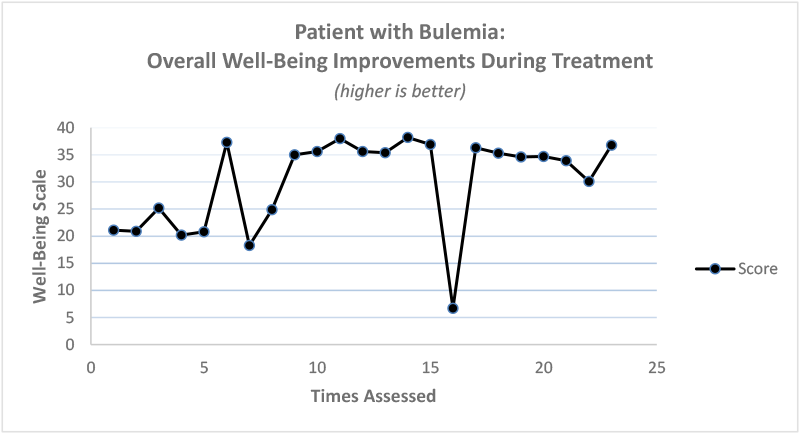 Couple Conflict
This couple was near the cutoff for experiencing clinical levels of Marital Distress at the beginning of treatment (higher scores on this instrument are better). They had a great deal of difficulty discussing even simple matters and experienced daily conflicts that they could not resolve. Treatment helped them to listen to one another, build a friendship, resolve conflicts without Dr. Hastings in the room, and connect in meaningful ways. At the end of treatment, their Dyadic Adjustment Scores were no longer a concern–they had achieved an Average level of marital adjustment!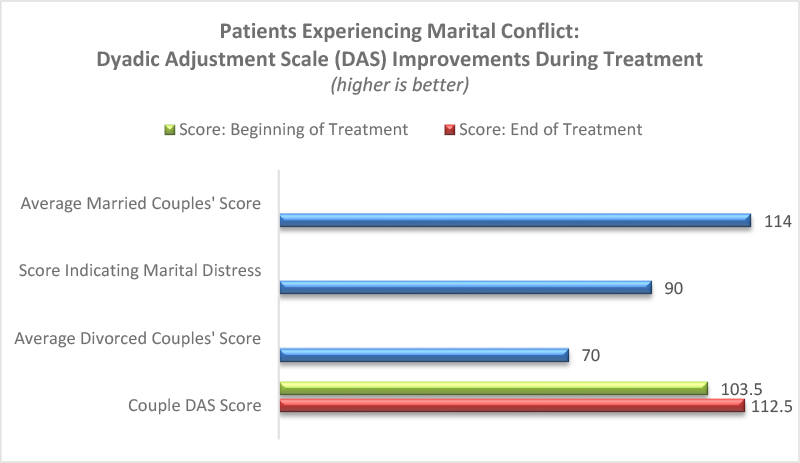 Depression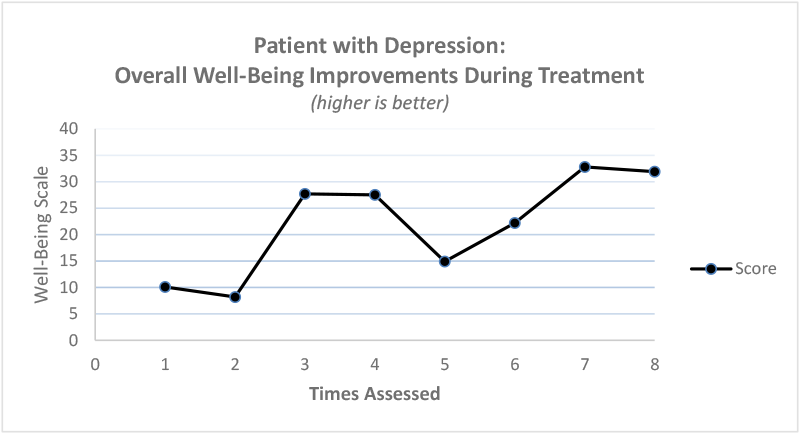 Erectile Dysfunction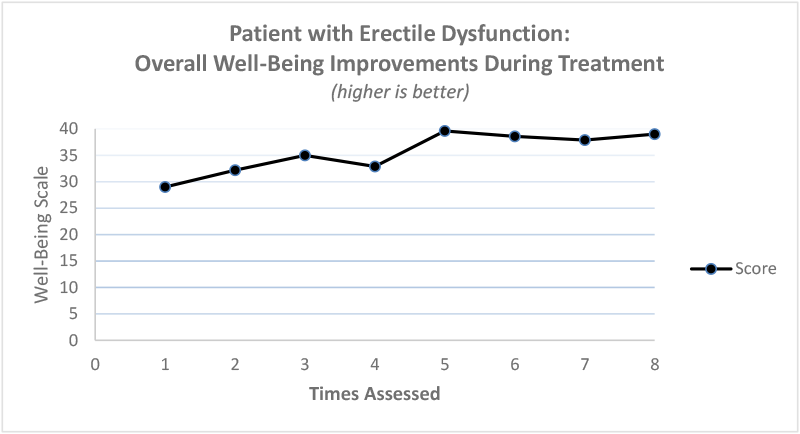 Generalized Anxiety Disorder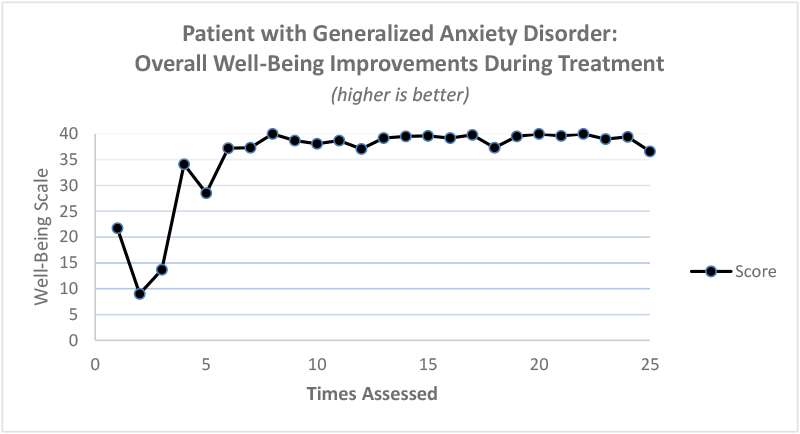 Pediatric Homework Refusal
This pediatric patient was struggling significantly with bringing materials home for homework, completing homework, and turning in homework. Dr. Hastings' and parents targeted this behavior. Over the course of 6 weeks, the patient achieved a 100% success rate of completing and turning in homework. Below is a graph outlining her overall percentage of achievement related to all her expectations (mastery over homework, mastery over hygeine, and belonging by interacting with her family in respectful ways).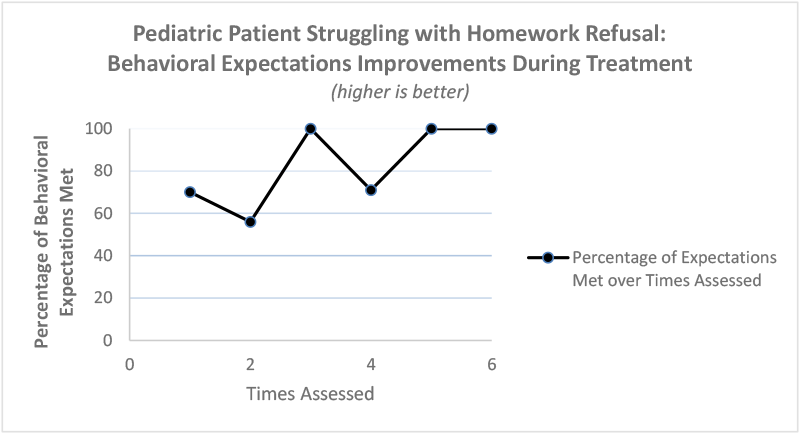 Neonatal Loss (Stillbirth)
Pediatric Obsessive Compulsive Disorder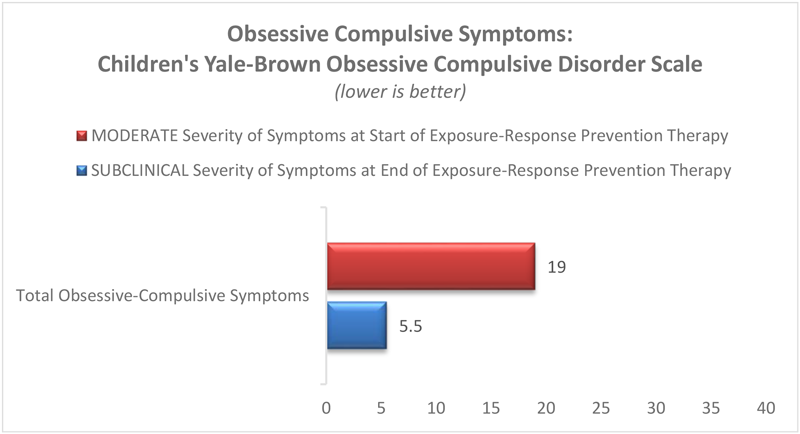 Youth Panic Disorder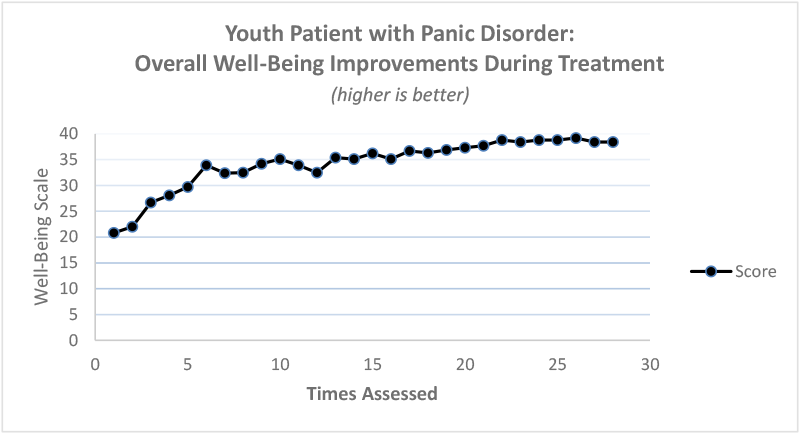 Post-Traumatic Stress Disorder
Youth School Refusal
Adolescent who had refused school for several years before beginning treatment missed 70% less school days the year during his treatment with Dr. Hastings.
Pediatric Separation Anxiety Disorder
A family initiated treatment with me after the child had been sleeping with her parents for over 6 years 100% of the time. We worked together and were able to help the patient to sleep in her own bed/room with a 100% success rate within 3 weeks of initiating treatment! Following this milestone, parents reported the "best summer and transition back to school ever." This is only one example of the many Pediatric Separation Anxiety Disorder cases I have successfully treated.
What Patients Are Saying
I'm honored to have the privilege of helping clients transform themselves and their relationships.
Young Adult: "Dr. Nikki is an amazing person and an incredible therapist. She has shown me that therapy is different than I thought it would be…I was under the impression it would be like how it is on TV and movies but I was wrong. She truly cares for her patients and our overall well being is her greatest concern. She treats me very well and has helped me to understand so many things… Because of her I have greatly improved the quality  of my life -making that first appointment with her was the greatest decision I've ever made for myself! I couldn't thank you enough." 
Parents of Pre-Teens: "We were fortunate enough to meet Dr. Hastings when one of my sons was having trouble with anxiety.  After our first meeting with her, I immediately knew that she was extraordinary.  She gave my son an action plan to deal with his anxiety and he started it immediately.  Also, she taught me how to support him.  She also began to see my other son who struggles with OCD, ADHD, anxiety and depression in addition to my husband and I.  She has restored hope to our family in addition to systematically giving us a structure for success.  She has seen us through some tough family issues and has helped us learn to deal with the bumps in life successfully.  Our family life is so much more positive as we incorporate the techniques we have learned in our sessions with her.   All our lives continue to improve.  Her positive energy  has influenced us in the way we deal with everyday life."
Adolescent: "My counseling experience with Nikki  has been a challenging yet wonderful journey. By allowing me to explore different aspects to different situations, she has taught me more than I ever expected to learn. Nikki is a bright and guiding light as I progress through the remaining time of my counseling experience."
Parent of a Toddler: "I was having what I perceived to be major issues with my 2 1/2 year old son. I wasn't sure if it was medical, developmental, behavioral or my lack of skills as a mother. I was seeking help and asking questions of physicians, special behavior teachers and mothers and not getting answers. Needless to say, I was extremely frustrated. Finally, I was referred to Dr. Hastings. I was looking for tools to be able to handle the situation. Within two sessions, Dr. Hastings was able to assess the problem and give me some of the tools to keep me from pulling my hair out. I cannot explain the sense of relief I felt. She is taking us on a journey well beyond the issues we were experiencing that I anticipate developing into a solid relationship between my son and myself. I don't understand why people are expected to know how to be good parents. Quite frankly, I had no idea. I am a sponge to Dr. Hastings' abundant knowledge."
Single Parent of 3 Children: "Having my family in Dr. Hastings' care at this important transition in our lives has been exactly the catalyst for healthy change that we needed. We have been through an emotionally abusive marriage and a volatile divorce, along with mental illness in one of my children that we need to find lifelong strategies for. I desperately needed to stop my children's negative behaviors from escalating: lying, slipping grades, sassy attitudes, independence issues and even physical aggression. Our needs are very much two fold: short-term crisis management and long-term skills for maintaining a healthy family.
Through many years of counseling on my marriage and therapy for my special needs child, I have seen many professionals. While I can say that Dr. Nikki is the best fit for us, I can also honestly say that she is uniquely adept at dealing with our lasting trauma from domestic violence. She is helping us to manage behavior in quantifiable, concrete terms while at the same time guarding the fragile self-esteem of my family. When I meet with Dr. Nikki, I come away with important information that I use to parent my children. She listens to me and is flexible with her strategies, which is extremely important for putting our goals into practice. It happens often where I am amazed at her depth of experience and knowledge; and equally important is her ability to teach what she has learned. 
She is enthusiastic about all of our efforts and successes, and understanding and nurturing towards us all when we perceive our own failures. We leave her office feeling energized, confident and healthier. The plans she has partnered with me to put in place in between visits have given us hope for our future. She is truly setting us up to live a fulfilling and healthy family life that we have more control over. I have already recommended her to many in search of family therapy. Her encouragement, warmth and positive presence is well received in my children. We are always happy heading to Dr. Nikki!"
Parents of 2 Children with Special Needs: "We were referred to Dr. Massey-Hastings from our son's psychiatrist. He needed a psychological evaluation and to be honest, we were sad and scared. I was sad because we had to deal with this issue and scared with the possible diagnosis. The first time I talked to Dr. Hastings on the phone, she was so nice. I felt good about her but was still skeptical.
When I met her in person it was obvious that she is passionate about her career and is very knowledgeable. Dr. Hastings was intently focused on what we were saying and although we had a lot to go through in terms of his testing she was extremely confident that she could help us. Finally! We felt like we'd been heard.
 Part of her evaluation was meeting with us (his parents), spending hours with our son, observing him in his school setting and observing him at home. I've never heard of a doctor coming to your house or school to watch your child in his natural environment, but it makes perfect sense. How can you diagnose someone by spending an hour with them in your office? Dr. Hastings compiled all of her data and within a few weeks I had an extremely detailed report and a plan on how to get our son, and our family on track so that we could be happy and emotionally healthy.
 I highly recommend Dr. Hastings! I am so grateful that we were referred to her. She is amazing and perfect for our family. We never felt like we were being judged. I felt from the very first time I talked to her on the phone that all she wanted to do was help us. I cannot say enough good things about her. If you meet her you'll know what I mean. She's just fantastic!"
Parent of a Teen with Special Needs: "I already miss hearing your voice and your reassurances. But, I know what I have learned will stay with me always."
Parent of a Teen: "My son has had a lot of therapists. You are the only one who has been able to crack him. He listens to you."
*Statements provided by grateful patients. Many have had failed treatments attempts with other therapists and wished to share about their positive experience.*